The Baltimore Fiddle Fair - A Brief History
by Declan McCarthy
ay back in 1992, I heard that Nigel Kennedy was visiting West Cork. I had heard he was a bit of a character so I got this mad notion that he might be in to doing a gig in our pub. Obviously we couldn't afford to book him and he wasn't really a regular on the West Cork pub scene so I decided that we would have to somehow make the idea more attractive to him and hence The Fiddle Fair was born.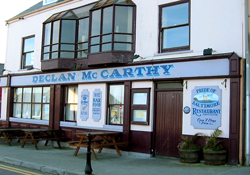 Declan McCarthy's pub
We're still waiting on Nigel but in the meantime The Fiddle Fair has grown and prospered and today is recognised as being one of the very best traditional and folk music festivals anywhere in the world.
The first few years it consisted of two weekends of music in McCarthy's featuring mainly local musicians with the odd one thrown in from up the country. The very first Fiddle Fair line-up included Nomos, Any Old Time, Seamus Creagh, Dordan, Ritchie Tisdall and Steve Wickham.
I remember a great night when Steve played and members of the audience joined him on stage to sing songs and afterwards everyone headed to Sherkin for some serious late-night frolicking.
Over the next few years it gradually gained a reputation amongst musicians as being a great festival at which to play. This was due to several reasons such as the intimacy of the venue, the appreciative audiences, and the stunning location. Audiences loved it because it gave them the chance to see truly world-class performers in a beautiful little village in West Cork.
The festival took a leap forward in 1998 when Guinness came on board as a sponsor thus enabling us to afford to bring artists from further afield. Many musicians also spread the word and pretty soon The Fiddle Fair became one of the hottest festivals on the calendar.
"In 1998 the Baltimore Fiddle Fair became one of the hottest festivals on the calendar"
In 1998 the line-up was Martin Hayes and Denis Cahill, Fiddlesticks (a great bunch of mad fiddle students from UCC with their "mammy" Liz Docherty), Dezi Donnelly and Andy Jones, Paddy Glackin and Micheal Ó Domhnall, Nomos, Kevin Burke and Ged Foley, Any Old Time, Dermie Diamond and Frankie Lane
Since then The Fiddle Fair has hosted some of the very best talent from all over the world including, Altan, Sharon Shannon and The Woodchoppers, 4 Men and A Dog, Lunasa, Patrick Street, Dervish, Calico, Ciaran Tourish with Paul Brady, Frankie Gavin, Tommy Peoples, Sean Maguire, Nollaig Casey and Arty McGlynn, North Cregg, At The Racket, Liz and Yvonne Kane with Jessie Smith, Seamus Creagh and Aidan Coffey, Dermot McLaughlin, Liz Docherty, The Bow House Quintet, Paddy Glackin and Micheal O'Domhnall, Cathal Hayden and Mairtin O'Connor, Sliabh Notes, Armoin, Liam O'Connor, Siobhan Peoples and The West Ocean String Quartet, Frankie Lane and The El Paso Band and Interference from Ireland. Harem Scarem, Russels House, Paul Anderson and Lauren MaColl from Scotland. Filska, Fiddler's Bid and The Chris Stout Quintet from Shetland. Dezi Donnelly, Jock Tylldesley and The Michael McGoldrick Big Band from England, Liz Carroll, Dirk Powell, Tim O'Brien and The Foghorn String Band from USA, Kornog from Brittan, Flavia Tomasso Tango Trio from Italy.
Gigs to Remember
As you can see, The Fiddle Fair has featured some world-famous names from the trad scene but we are also very proud about introducing some "unknowns" and some of these gigs will live long in the memory- people like Lauren MaColl, Liam O'Connor, Harem Scarem and The Chris Stout Quintet.
Even though we started out as traditional Irish music festival, I'm delighted that we've become more eclectic as time passes and have featured Cajun, Old Timey, Classical, Breton, Rock, and Country music, as well as maintaining our love of traditional music from everywhere.
Christy Moore and Paul Brady
When I look back at the last 14 years of Fiddle Fair it's very hard to pick out some highlights (mainly because my memory is ******) because there has been so many.
I remember the whole house jumping for the Dirk Powell Band; a stunning sunset which gave the Nollaig Casey and Arty McGlynn gig a special magic; the sheer spectacle that was the late Sean Maguire's gig; the array of headline acts that were in Tim O'Brien's "Crossing" show; an electric gig by the Hendrix of Irish fiddler's Cathal Hayden with Gerry O'Connor and Kevin Docherty; the way Harem Scarem charmed everybody; Liz Carroll and Paul Meehan who met for the first time about an hour before their show and played a blinder; Dermot McLaughlin's and Kevin Burke's solo gigs.
I had the pleasure to work for Altan for a while and have seen them play hundreds of times but I don't think I've ever seen them better than their gig at Fiddle Fair '03, a truly memorable night made even more special by our "support act" that evening, Christy Moore! I'm sure the hundred or so people at that gig will never forget hearing Christy and Paul Brady sing The Lakes of Ponchatrain together.
That's just a few of the many extraordinary gigs that we've had at The Fiddle Fair down the years. Maybe you have your own favourite - I'd love to hear about it - send them to me at declan@fiddlefair.com.
Fiddle Fair Fun
As well as the great music, The Fiddle Fair has always been great fun. I have a feeling that this may have something to do with the record amounts of alcohol consumed. I remember one year, '02 perhaps, that we had 4 consecutive nights where someone "crashed" their car going home- nothing major thankfully.
Liam Cotter had a part to play in one of them and Liam is possibly the only person, including myself, who has been to every single Fiddle Fair gig. He even appeared as a special guest at one gig when he put a mop on his head and filled in for Brendan Begley. For a few Fiddle Fairs he was known as Century because we reckoned he drank a hundred pints during the week.
The Amazing late-night sessions have been an integral part of The Fiddle Fair and apart from the brilliant music there's also been lots of serious shenanigans going on. One year we were attacked around 3am by three accordion players who stormed the bar in convoy. We quickly managed however to put them back in their box.
Most of the good gigs went on until early morning and my father often came in the next day to open the pub only to find the likes of Christy Leahy or Caoimhin sprawled across a stool coma-like.
Raffles
We usually hold a raffle during the Fiddle Fair and the generosity of the audiences has always been amazing. It really is one of the most special things to have been associated with because the proceeds always go to a worthy cause specifically to do with children.
"We've raised funds through the raffle to help build a playground for the children of Baltimore"
We are very happy to have been able to help people like Our Lady's Hospital for sick children in Crumlin, The Aurelia Trust which works with Romanian orphans, a local family who had triplets, a local boy who needed treatment in Bulgaria for a rare muscular disease, and our last one raised funds to buy some musical instruments for the local national school. We've even raised funds to help towards the cost of building a playground for the children of Baltimore.
Recordings
There has been so much amazing music played at the Fiddle Fair down the years and it is one of my regrets that we didn't record every one of them.
We have released two however, both of which were produced by Billy Robinson and I think they come pretty close to catching the essence of our festival.
You can buy both of these at a very fair price through the website or as they say, "available in all good record stores".
The Present
Of course, we sold the bar in 2004 but The Fiddle Fair is continuing to evolve and now takes place throughout the whole village. It's funny because that has always been the hope but there was never enough time to organise it properly when you're trying to run a bar as well.
I hope that The Fiddle Fair will continue to grow without losing its intimacy and that we will continue to present world-class music from near and far to audiences from all over the world and I particularly hope that our festival inspires people of all ages to pick up an instrument and start playing. Nothing would give me greater pleasure in Fiddle Fairs to come than to introduce a fiddler from Baltimore.
Declan McCarthy